Thanksgiving Tablescape "on a budget"
---
Hi beautiful friends!  I am so excited to share with you my Thanksgiving tablescape, AND its budget friendly!  I've teamed up with some of my favorite bloggers and they too have shared their tablescapes as well.  I've listed a direct link to each at the bottom of this post.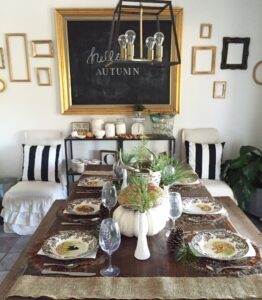 My inspiration for this look was from my woodland spode china.  I wanted to bring the outside in by using different textures.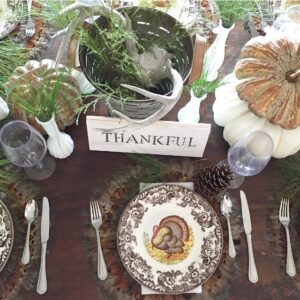 Y'all, I didn't buy a thing for this setting.  I used some faux fall pumpkins and pulled decor from other spaces to style our table.  Let's talk about the wine glasses.  Guys, these are acrylic, and from Walmart!  I love using beautiful stemware for water or sweet tea.  I don't think you have to just use these for wine.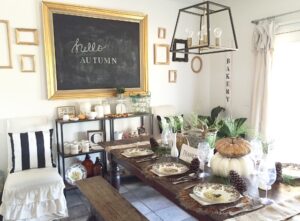 I mentioned this Tablescape is budget friendly.  I used pine cones and pine needles from our yard to add some greenery for FREE!  I pulled out our vintage milk glass vases to layer.  Hit up your local yard sales or thrift stores to find these gems.  I got a box full for less than $2!  The antlers were my father's he has tons in his old shed.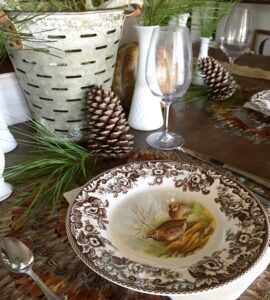 Let's talk about napkins!  Well, I seemed to have mis placed mine so y'all I used bounty paper towels, I know, stay with me here.  For me, I don't want to have to do anymore laundry than I have to…and would you have even noticed if I wouldn't have told you?!?
I also wanted "fine china" I could use, not something that has to be hand washed.  I love our woodland spode because it's dishwasher friendly!  Can I get an amen?!?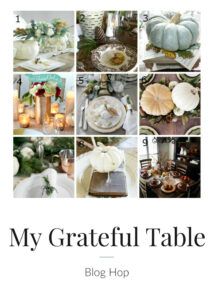 Make sure to check out the talented ladies I teamed up with for this amazing blog hop.  Links listed here, enjoy!