farmhouse
,
farmhouse style
,
home decor
,
Interior Design
,
interior styling
,
Lighting
,
Living room
,
modern farmhouse style
,
modern interiors
,
rugs
,
Uncategorized
,
vintage rug
Tips to easily transform a space
… Today I want to share a few simple budget friendly changes to make to a space to change the look and vibe in the room.  I am going to share our living room since we recently refreshed the space. Below is  a view of our living room from about 3 years ago: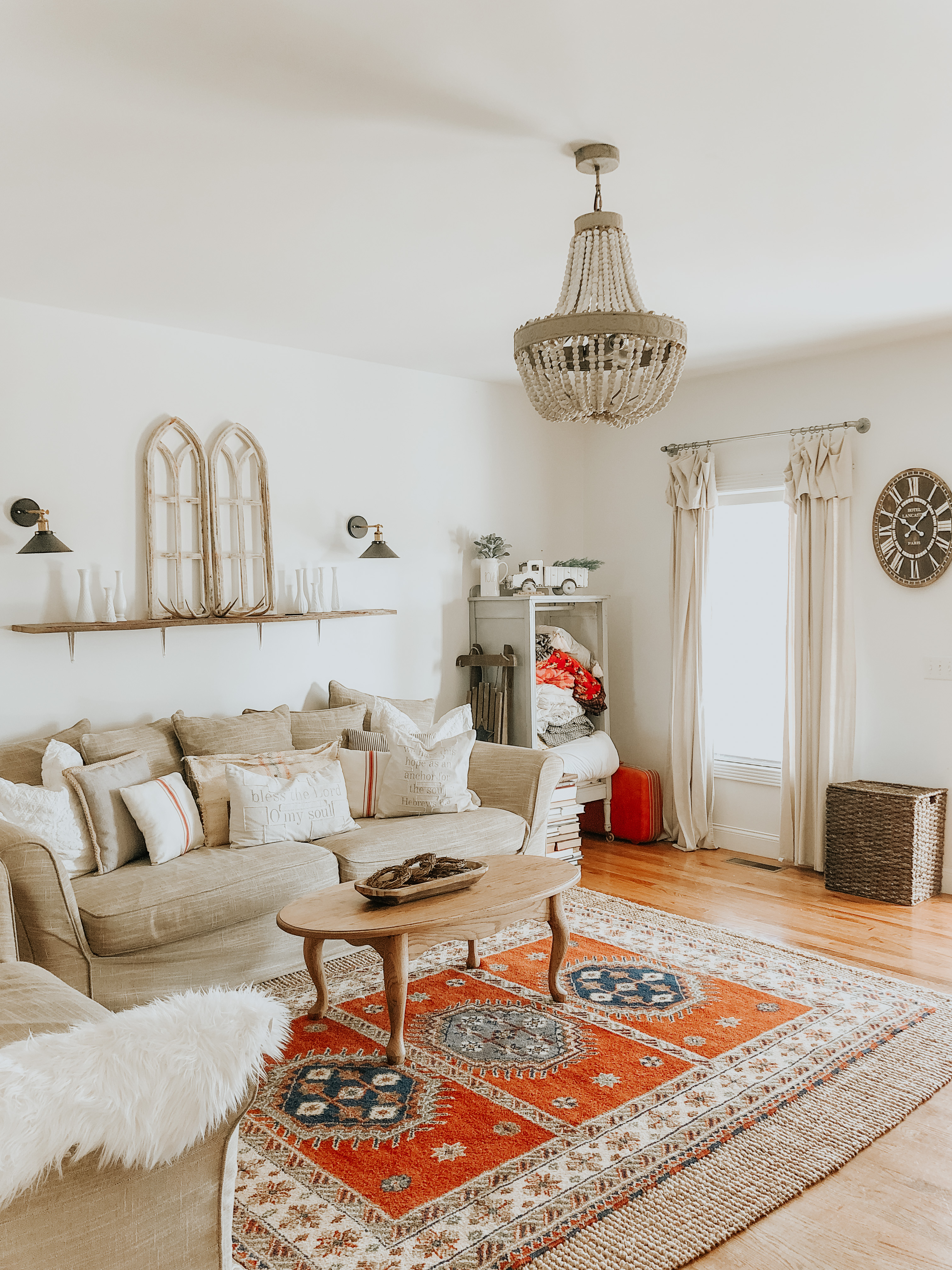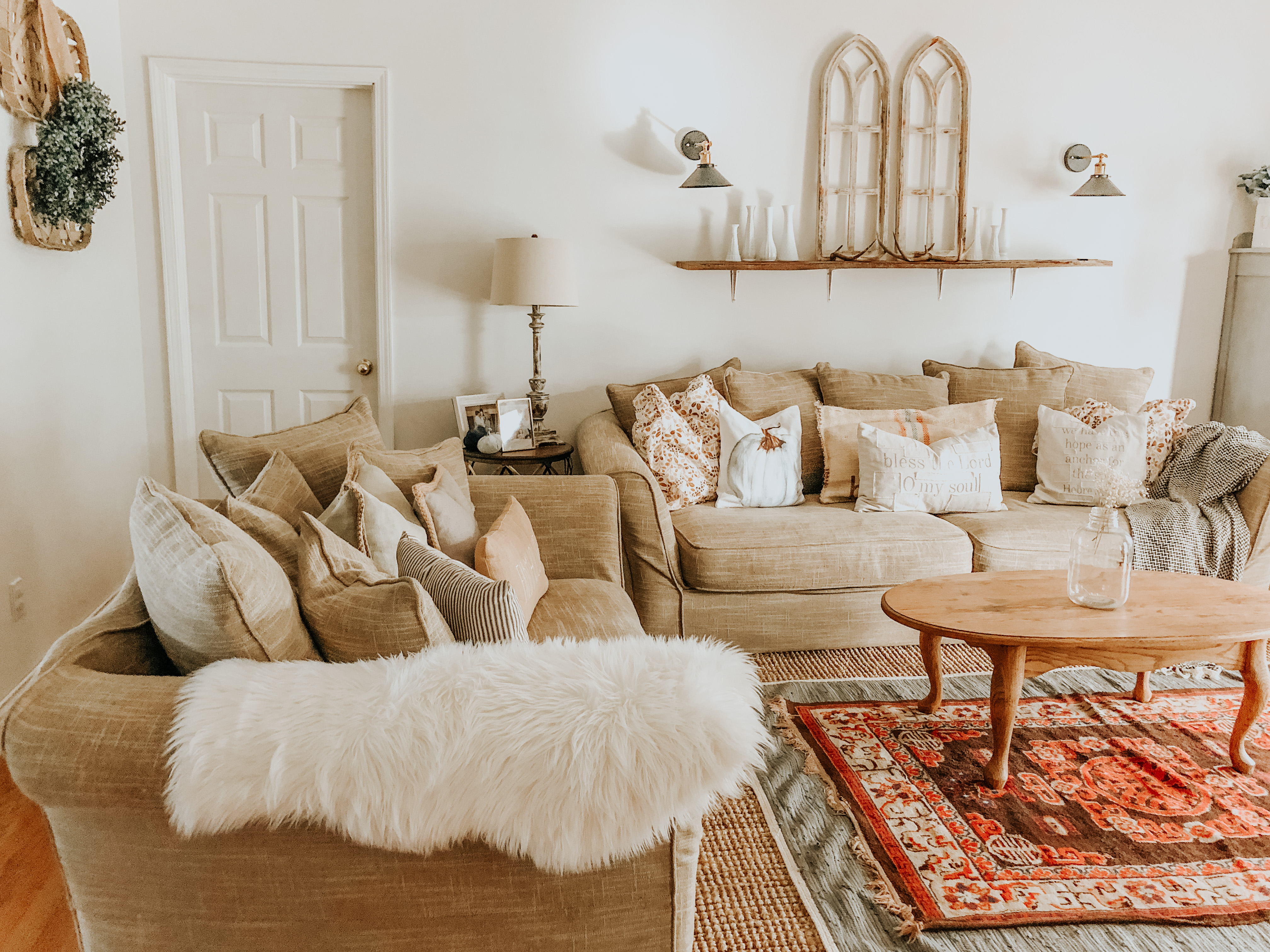 Nothing wrong with the style of this space, we loved the coziness.  My style is more simple, so I wanted to simplify the space.  Ok, now for the tips:
Tip 1: Paint –You may get stuck like many others on what color to paint a certain space, I too get stumped on paint colors often and I am a designer. First, determine the feeling you want the space to have.  Cozy + warm, relaxed + soothing, bold + bright? For us, we wanted our living room to feel cozy + warm.  I have always loved lighter walls but these tips I give will work with any style. Choosing the right paint color for your space is important.  Don't decide on the paint color from the swatches in store.  Bring them all home to look at each in your lighting in your home.  Spend the money on samples, paint each wall right up against your molding and see how the light hits each when dry.  If you just choose in store under their bright lighting, odds are it won't look the same in your home under your lighting or in natural lighting.
Tip 2: Lighting – One of the easiest ways to add value to your home is to update the lighting.  We have updated the lighting in our home in just about every area.  If you want to see our lighting throughout our home, I share each space and what we chose here.  For our living room you can see we added the bead chandelier to update the space a bit.  I used faux sconces to add a little light (using puck lights) above the sofa, then we also had the standard table lamp.  All of these are ok, but I wanted to have more table space, and more lighting.  
Tip 3: Rugs – I love using area rugs to bring in color and anchor the space.  If you are not sure on what size rug you would need, I share how to find the rug size to fit your space here.  
Tip 4: Throw Pillows – Most sofas and sectionals come with standard throw pillows.  You can change the vibe of your sofa by changing the pillow cover.  I love pillow covers because you can change them out often without spending as much as you would if you bought a whole new pillow.  Just use the existing pillows your sofa came with and add new pillow covers to match your style of the space.  With young children, we remove them and wash them often as well.  I have a designated drawer for seasonal covers or you can use pants hangers and hang them in a coat closet. 
Tip 5: Wall Decor – Depending on what style of the space you want, will determine how much or how little wall decor you should have.  Do not think you need something on each wall.  For us, we wanted something behind our sofa.  I chose picture ledges so I can easily change out the pictures, art, or seasonal decor often and not have tons of nail holes.  I also love the idea of having a nice piece of artwork as well.  Collages are fun too and I love to incorporate family photos with nice artwork together.
Here is what our living room looks like now: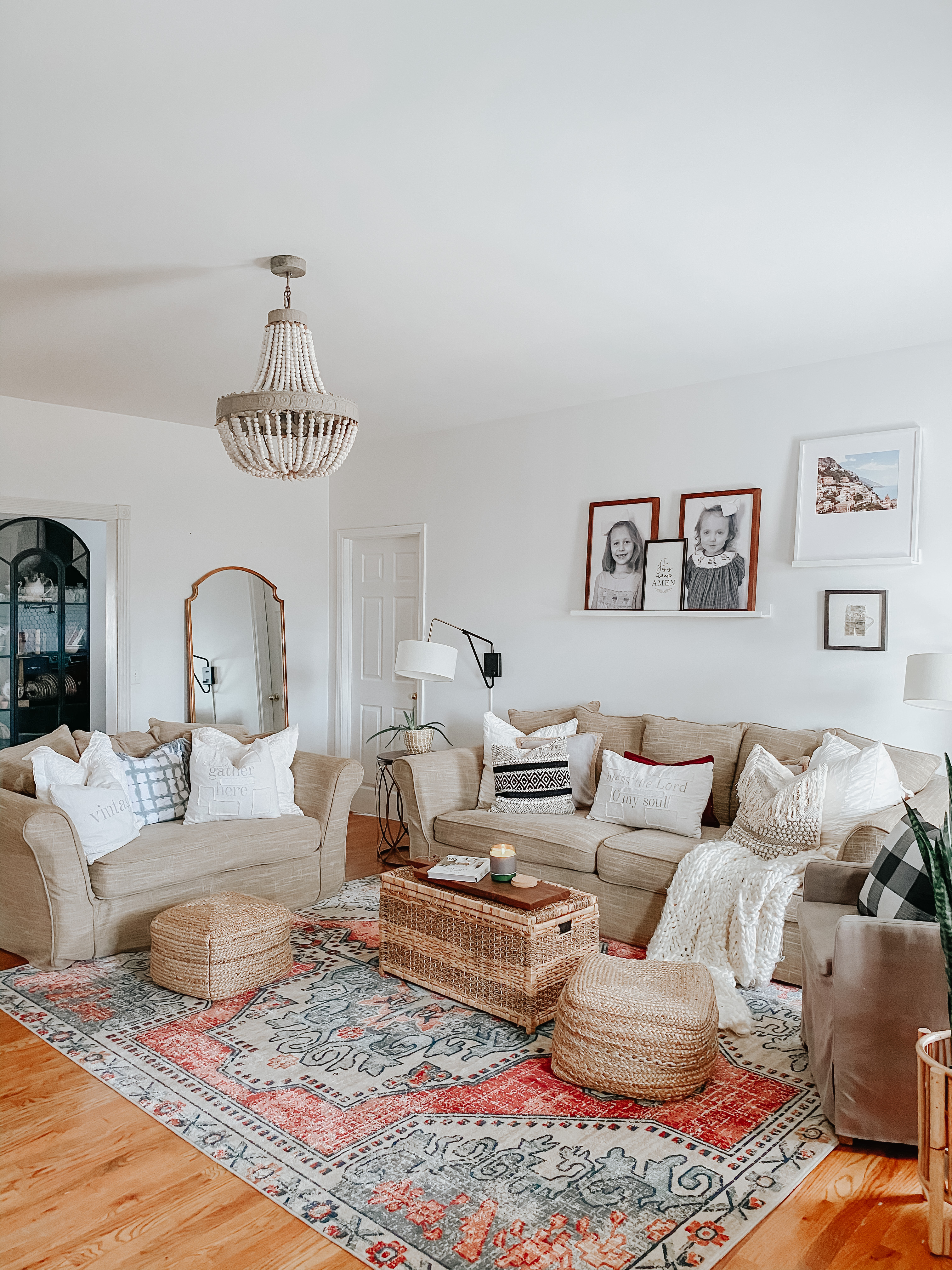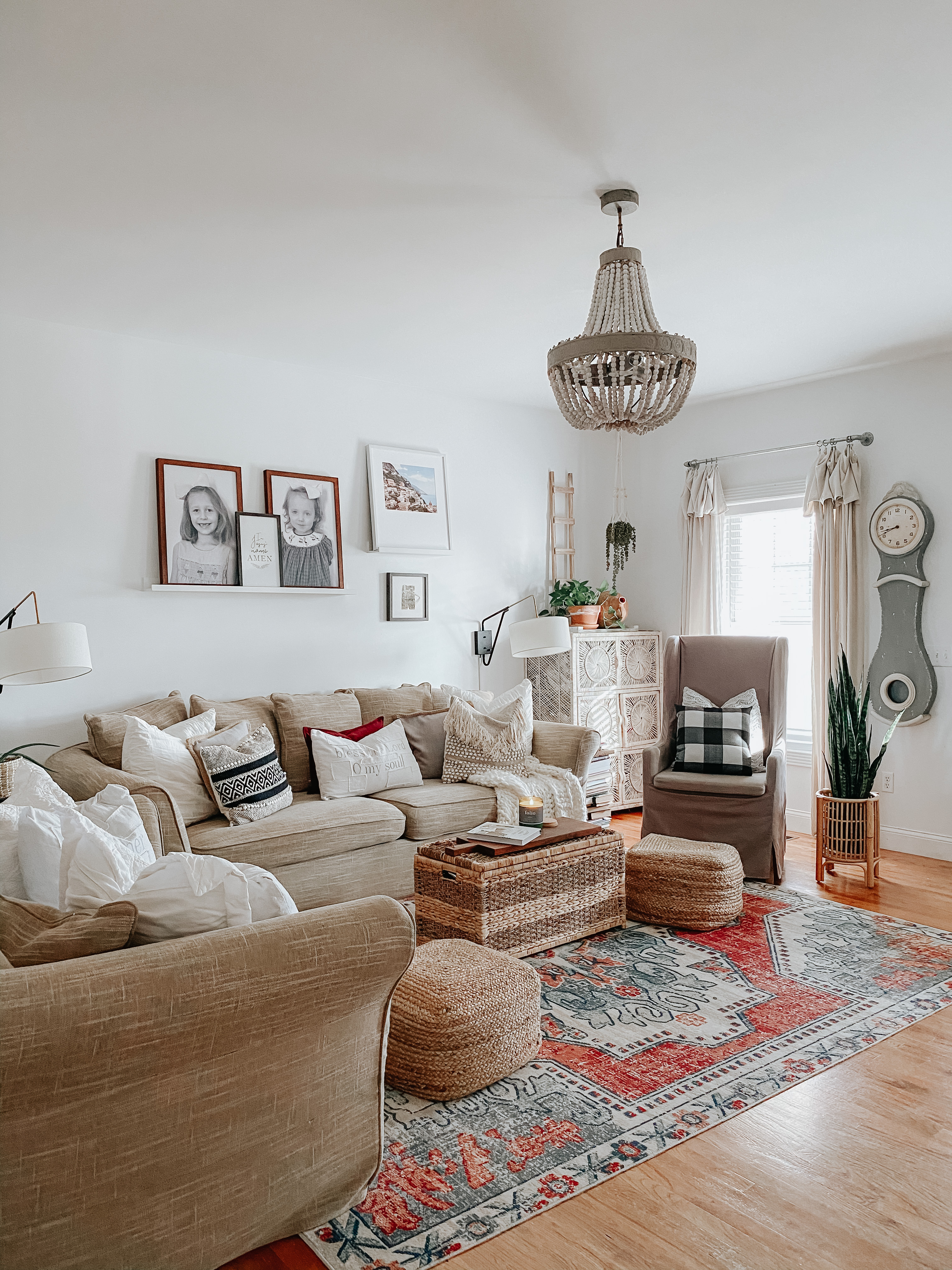 I changed out the rug to one large area rug to add some color and pattern to the space.  I updated the lighting and added these wall sconces to free up the side table space.  I also used some of our sofa cushions and added pillow covers to update the look of our sofa.  It's also fun to use seasonal pillow covers and like I said above, after each season they are easy to fold and put away in a drawer.  One last tip I will leave you: The past few years, I have been intentional about what items I purchase for a space.  I spend my money or look for the staple transitional pieces you can use year round.  If you look at our living room again, this whole look would transition for any season.  
I hope this inspires you to make your home an oasis for you and your family.  Most items you see in this view are resale finds.  It doesn't have to cost you a lot of money to have a happy cozy home.  If you want to see more areas of our home, click here
Shop the space via the affiliate links below:
[show_shopthepost_widget id="4332758″]
Chat soon,
Heather